The intrusion available
Texto de Clarissa Diniz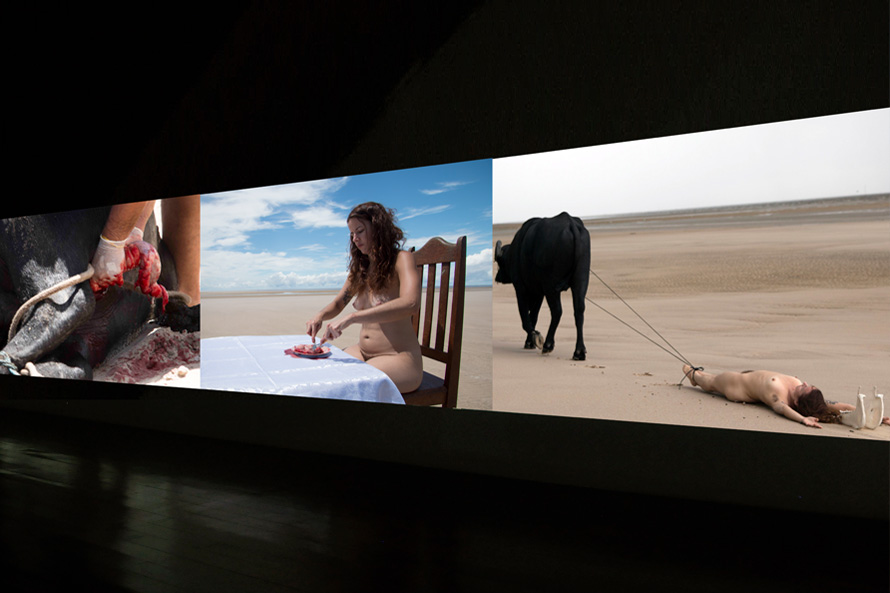 Some sort of intrusion was always a central element in the work of Juliana Notari. Such as the performances where the artist sets other people's hair on fire, cracks walls to seep them with specula (gynaecological exam's instruments), imposes to spinning playground toys that they keep going round until they break or, still, voluntarily makes way through a glass shards corridor. The bodies policy that establish the intrusive aspect of such works – carried out over the last fourteen years – constructs the image of a strong act from art towards the world, an empowering view, running along violence and authoritarianism, too.
Lately, however, the intrusive gesture of her work has acquired new outlines. If the acts of force from prior works greatly activated the relationship between violence and vulnerability, recent works add a new layer to this bipolarity. It happens to be a sort of availability: desire and opening to the other that may hint of a voluntary servitude capable of reconfiguring seemingly exploitative relationships.
It is what happens at the invasion of an abandoned mausoleum so that it can be cleaned, or the castration of a buffalo, whose testicles are later eaten by the artist, that also lets herself be dragged by the animal.
In the first scenario, Soledad, Juliana spontaneously takes up the role of cleaning the accumulated slime over deaths left on their own, their history unknown to her; in the second one, Mimoso, the artist offers herself to incorporate the virility the animal had stripped away, in an act – more cannibal then merciful – of perpetuating its libidinous energy.
Both works skew a possible 'comfort zone' of the artist's previous production. Sorterrada, not in the dominating centre of her work's terrain – the provocative, authoritarian gesture of yore – but, conversely, allowing herself to make the entry on the other's territory the starting point of her work, Juliana sublimates dimensions that are perhaps less evident of political experience and her production's otherness. After all, Soledad and Mimoso are also intrusive in the relationship they establish with the artists, whose recent gestures are empowered by the act of opening up to the intrusion of lives that, by escaping her, now challenge her as well.